Welcome!
Here at Creative-Journal we endeavor to bring you with one of the best sites on the web for journaling encouragement and inspiration. Here you will find articles, techniques, a visual gallery and more designed to spark the creative flow for you when writing. This site is updated weekly so the material is always fresh.
Visit our shop for products of interest for writers and directed online journaling courses you can experience. If it's articles you are looking for, scroll down this page and visit the library. For up to date news in the world of mental health, you've come to the right place.
Creative-Journal is home to two free newsletters. Creative-Journal Daily delivers a writing prompt/question to your email every day of the week. Subscribers of this newsletter also enjoy an extensive Monthly Newsletter chock full of information, updates and inspiration. For a fresh article on journal writing and personal development issues, Creative-Journal's Weekly newsletter is a must. This is delivered to your email for every Monday.
If you are looking for a site that hosts online journals, check out the Links section for some suggestions. Our site is dedicated to inspiration but we also stay on top of what else there is out there on the net that may prove helpful to you.
Take a look around and drop a line through the Feedback link! Be sure to check back often to see what's new in the world of journal writing.
Expanding Inner Peace
Moreah Vestan © 2001
What can I do this week to deepen and expand my inner peace? Do you notice a difference inside in your level of inner steadiness when you handle things you used to put up with or agonize over?
When you make new choices that support your peace and fulfillment, you feel more clarity and resolve, less at the mercy of the external world. What can you do to promote peace for yourself? Perhaps the first step is to list the areas of your life in which you want more inner and outer harmony. For instance, do you go along with whatever a partner says in order to "keep the peace"? You could be paying a heavy inward price for that outer "peace". This next week, notice how many of the following are true for you. And pick one area you want to increase your awareness of. Focus on that a few minutes each day.
Click Here to Continue Reading
Joint Journaling
Corinne Pratz © 2001
As effective as writing is my journal and talking with myself in this way is for me, I have found tremendous growth, understanding and insight in joint journaling as well. Simply put, joint journaling is sharing one book with another person where both communicate with themselves and with each other.
In a family of six, it can be very hectic to say the least. Everyone has their own schedule and days can fly by without a lot of deeper communication. I introduced joint journaling to my children as a way of feeling more connected with them and what was happening in their lives.
Click Here to Continue Reading
Journal Naked!
Sean Pratz © 2001 Which idea scares you more, installing a web cam in your bedroom or sharing your personal journal on the Internet?
I'm sure you won't be shocked to hear that plenty of people bare all for the camera, but you might be surprised to learn that tens of thousands of people put their personal journals online. Maybe the only difference between the two sorts of people is just a matter of degree. It takes a certain amount of exhibitionism to bare everything to complete strangers, whether it's your body or your deepest thoughts and feelings.
Click Here to Continue Reading
From a Creative-Journal newsletter subscriber: "Thanks for making such an interesting and USEFUL journaling site. I love getting the daily prompts and the weekly articles." Keri
News of Interest from Around the Globe
Create a Journal Committee
Corinne Pratz © 2001
Sometimes the simple act of writing in your journal can bring clarity to confusion and solutions to the problems you are facing. It never ceases to amaze me how it just happens that I suddenly figure something out after I've just written about my feelings and dilemma.
But when this isn't enough, there is a far more directed way to find the answers you seek. By creating a "committee" within yourself and on the pages of your journal, problem-solving takes on a different twist.
Click Here to Continue Reading
When All is Said and Done
Corinne Pratz © 2001
So what do you do with your journaling book when it's full? What do you do when you get a stack of them? For me, this has always been somewhat of a dilemma.
I have kept a journal for years - since I was Eleven years old. I have poured out my hopes, dreams, thoughts and problems onto pages and pages. My secrets are all tucked within those books too. And I don't fancy the idea of someone finding them one day and reading everything, especially my kids! As close as I am with my husband, I wouldn't want him reading everything anymore than I would invite him to read my mind. There are just some things that should remain private between me, myself and my journal.
Click Here to Continue Reading
From a Creative-Journal newsletter subscriber: "I wanted to let you know, that I am mentioning your site, which is really my favorite, wherever I have the possibility!" Chantal
From a Creative-Journal newsletter subscriber: "I enjoy your work so very much! Wherever you take the list I will certainly follow!" M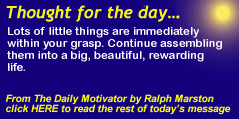 From a Creative-Journal newsletter subscriber:
"Dear Corinne,
Wow! I'm so impressed. Your site is just what I've been searching for on the web - a place of inspiration! I have been editing a local magazine for six years and unfortunately the publisher has decided to call it quits. I feel bereft, but now I figure it's time to send my mss to more unbiased editors. Gulp! So I'm trying to discipline myself into daily writing that doesn't revolve around the magazine (having taken time out to grieve, gnash my teeth etc.). The inspirational images are just what the doctor ordered.
By the way, I'm also a long time journal-keeper and the mother of four children (a journalist, an industrial designer, an actor and a future film producer - see a pattern here). Three children are launched and one is poised. I think I'm in mid-emptynest syndrome. Sigh. So I've got to get my mind off the telephone and on to the page.
Your site is now on my favorites list. Thanks. This will be great!" Molly
Found in St. Peters Basilica, 1601
Isn't it strange,
That Princes and Kings,
And Clowns that caper,
In sawdust rings,
And common people,
Like you and me,
Are builders for eternity.

Each is given a bag of tools,
A shapeless mass,
And a book of rules,
And each must be,
'Ere life is flown,
A stumbling block,
Or a stepping stone.
Author unknown
Make your experiences count and tell us what you think. Click to take our quick and completely anonymous survey.
Tell Us How We're Doing Survey
Visit the library for more articles!
"Love the journal questions!" J
Join us - Subscribe to Creative Journal - Our Free Newsletter for Your Daily Prompts!
"Decorate your home with Classic Clawfoot Tubs"
ClassicClawFootTubs